From instrument panels to door trim and consoles, Inteva designs, engineers and manufactures high-quality lightweight systems that meet the wants and needs of automakers and end consumers while reducing environmental impacts.
Our experienced designers provide visionary perspectives on how the interior of a vehicle can offer a luxurious environment and user experience. Our deep knowledge of the entire body system allows Inteva to bring those concepts to life through skilled engineering and advanced manufacturing technologies, and our unique InLiteTM service to smart lightweighting brings cost-efficient weight savings to interiors. 
Inteva's vertically integrated "pellets-to-parts" production of interior systems begins with leading-edge thermoplastic polyolefin (TPO) materials, including our own award-winning InteatherTM material, which can also be sold separately to other suppliers.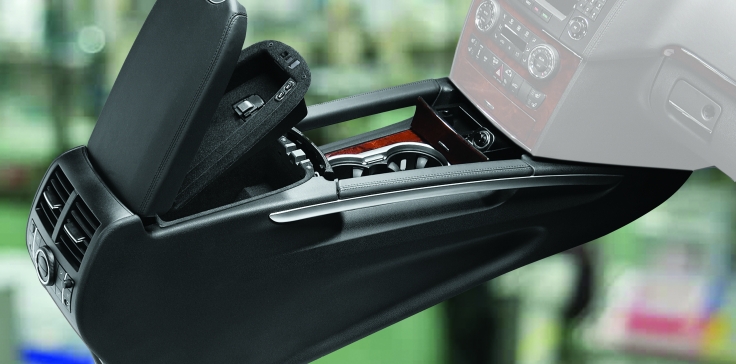 Inteva's interiors portfolio is focused on providing valued interior systems that include manufactured components and fully integrated systems that fit the needs of our customer's vast array of vehicle segments - everything from entry level and luxury vehicles, to SUVs and commercial trucks. Our portfolio includes instrument panels, door trim modules, consoles, headliners and more. Assembled and sequenced interior products include cockpits, headliners, and vehicle sub-assemblies. In addition, we also provide molded truck, under-hood and exterior components.
Autoline covers Inteva's Inteather™ Eco Trim
Autoline dives into Inteva's award-winning Recyclable Inteather™ Eco Trim material which balances environmental responsibility and cost effectiveness. The formulation utilizes recycled bi-laminate scrap/offal in the base layer of a cap/base construction – reducing waste by 50 percent – and is lower in cost than the material conventionally used for instrument panels, consoles and doors.
Robotic Stitching
Inteva has combined advanced sewing technologies with robotics to pioneer revolutionary stitching processes for manufacturing instrument panels and other large interior systems.
Our InStitchTM processes utilize programmed robotics equipment, patented sewing heads, and unique scanning methods adapted from other industries to provide a faster, more accurate alternative to the conventional cut, sew and wrap process. InStitch reduces scrap and cycle time. It also allows automakers to add a variety of unique stitches to places on the instrument panel surface where it would otherwise not be possible to do so.